Notes
Day 10
Writing is a skill. In here I send notes of my writing from the 50 days of writing course by David Perell, to reflect, develop and build my writing style.
In the 10th email from 50 day writing course by David Perell, The 3 B's of creativity is explained by David.
Thinking hard to be Creative can be stressful and often times we don't make any progress. Creativity is serendipitous. Creativity tends to arise in the states of relaxation which are preceded  by long focused thinking. We cant force creativity but we can create the conditions for it by following The 3 B's of Creativity.
Bed:
Bed represent the sleep and it is the way to refresh our mind which is just like an overloaded computer.
Bath:
Bath represents Leisure, which means doing something other than the thing you want to focus for a while and then getting back to the problem.
and Bus:
Bus represents movement. That is moving your body from the place you try to focus and looking around.
Together, the trinity of bed, bath, and bus reveals that creativity favors the unfocused and unconcentrated mind. When you follow them, creativity goes from being a mystical talent to a conscious way of being. - David Perell
My Thoughts:
The part about the creativity being serendipitous is absolutely true. I have been writing posts here, The Design Story and other places on the internet. I agree that sitting down to write often ends up being a dry read for myself. For a month, I tried morning walks/Jogs every morning and soon as I come back and Freshen up I get creative ideas or interesting take on the existing Ideas that are more authentic.
As far as the 3 B's of Creativity goes, the Bed is the most important part not only for creativity but for your own body, I agree that sometimes you can't sleep no matter how much you try but that doesn't have to become a habit which affects you in later part of your life. The Bath represents leisure. We all do something for fun, i.e. scroll Instagram, Twitter(not advisory but can be changed by following the Habit loop, A process from Atomic Habits) We do need to take our time in between and most of the creative ideas come in those breaks. I don't know about you guys but I love the tea breaks I used to take with my classmates during my Internship. We shared our stories and different cultures, traditions, Ideas, talks about games, movies and all that Jazz.  
The Internship period where I made some amazing memories we used to walk all day from rooms to classes and then to lunch and then finally to rooms. So the final Bus from the email refers to walking. I used to walk 10,000 steps everyday. I  must agree that walking has a direct correlation with increased sense of creative juices. I was more focused in classes, I was fast asleep as soon as I lay on the bed. I was in my best state. Walking definitely improves our thinking, maybe I can research on this and write a separate Blog post.
In conclusion, I want to reflect on the notes and say that changing our environment to be creative will help us. If you feel you are not on the best focused state, take a walk and come back, you will feel better.
For more of perell's work, visit David Perell and find his incredible essays to read. You can signup for the 50 Day Writing Course by clicking and signing up to receive one mail every day with amazing take on  writing.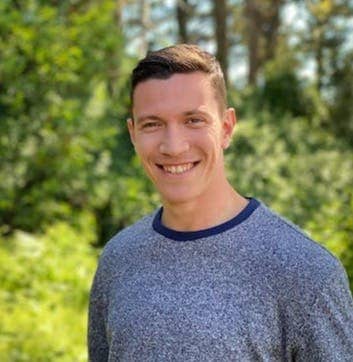 Thank you for reading.
---
Sponsor:
Morning Brew
You can get access to latest news, exciting articles and some puzzles just like a newspaper but digitally and these all come directly to your inbox.
I highly recommend giving the Morning Brew newsletter a try. It's an awesome daily email that delivers the top business, marketing, tech among few news in a way that's informative and entertaining. Best of all, it's free, and only takes 5 minutes to read each morning.
Do subscribe for fresh, amazingly written and insightful news their is at Morning Brew.